Main content starts here, tab to start navigating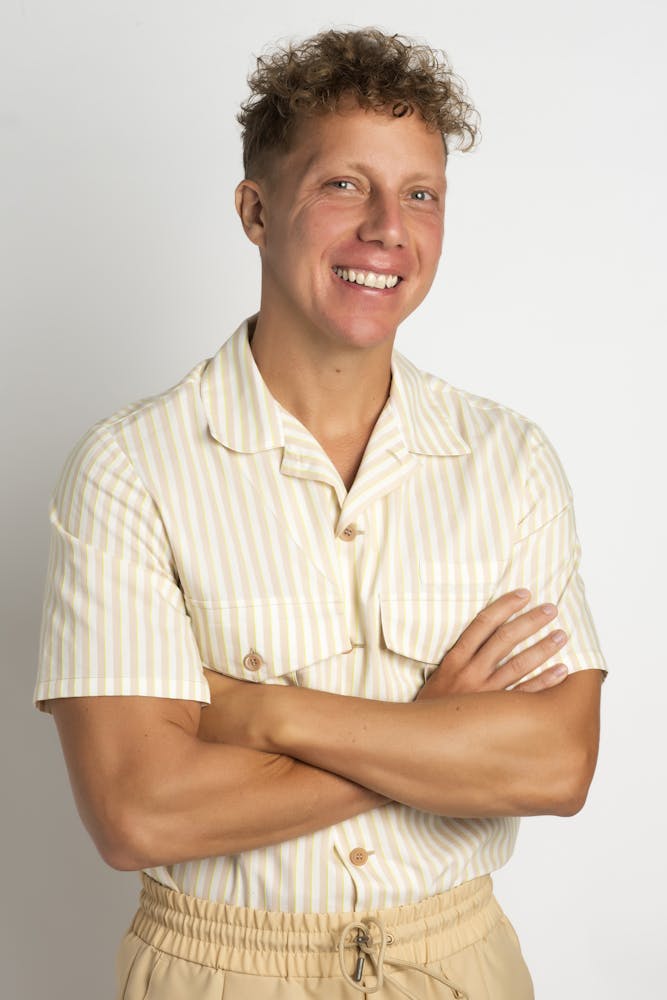 Matt Levine, an American entrepreneur known for his ventures in branding, hospitality, wellness, and nutrition.
Levine is founder of Chlorophyll Water: Nature Enhanced Vitamin Water. Chlorophyll Water is a purified water (carbon filtered, triple filtered, UV treated) enhanced by nature w/ the addition of Chlorophyll, a key ingredient and the vital green pigment in plant life. Chlorophyll Water is a refreshing introduction to the many benefits of Chlorophyll fortified with the added health benefits of Vitamin A, Vitamin B12, Vitamin C and Vitamin D for enhanced hydration. Chlorophyll Water is sold in select retailers, via ChlorophyllWater.com and on Amazon.
Chlorophyll Water was most recently selected as the "Official Water" served at the United Nations for International Yoga Day within the General Assembly.

While Levine also founded the popular Matcha Mama Tulum outposts, a collection of three vegan cafes in the Tulum region of Mexico. The Matcha Mama cafes serve superfood packed 'jungle inspired' menu items along with acai bowls, fresh elixirs, smoothies and juices in the Quintana Roo, Tulum region of Mexico.

Prior to founding Chlorophyll Water and launching Matcha Mama, Levine had been labeled an "A-List Restaurateur" by the Daily News, "Lord of Local" by WWD for his commitment in supporting local farmers, awarded "Best Display of Marketing Genius" by the Village Voice for his branding awareness, and most recently was selected as one of Vanity Fair's #VF500, Top 500 most influential people in 2017. While his ventures in hospitality have been named "Best Of New York" by Timeout, "Top 10 Restaurant in the Tri-State Area" by OpenTable along with many other accolades and awards.
Previously, Levine owned and operated Chalk Point Kitchen, The Handy Liquor Bar, and The Eldridge. While his indieFORK company operated The Hotel on Rivington, W New York Times Square, and Society Café at Walker Hotel Greenwich Village.
indieFORK was also responsible for introducing a Health and Wellness inspired beverage program at W Hotels New York, including creating a Tri-State area sourced fresh pressed juice and elixir menu, a locally made kombucha program, and introduced weekly pilates, fitness and yoga programs to the W New York hotels.
Over the years, Levine's companies have also produced high profile events across the globe, including at Art Basel, Cannes Film Festival, Coachella, Grammy Award Weekend, Food Loves Technology, Formula 1 Monaco, Full Moon Festival, Sundance Film Festival, and Super Bowl Weekend.
Levine's most recent venture, the vegetable-centric Chalk Point Kitchen (2013-2018) was the premiere farm to table restaurant in New York City, ranking #1 overall on TripAdvisor out of 12,009 in 2016, and ranked #1 vegetarian restaurant in 2016 and 2017. The superfood packed Chalk Point Kitchen menu was awarded "World's Hottest Destination for Vegans" by CNN, proclaimed "Your Go-To Healthy Restaurant in New York City" by Yahoo!, declared "Reclaiming Eating Out for Health's Sake" by The Sweat Life, renowned "Chalk Point Kitchen, A Love Story" for it's sustainable practices by the The Daily Meal, granted "Most Stylish Organic Dining Experience" by Haute Magazine for it's dedication to organic sourcing, and ranked "Top Vegetarian" restaurant by am New York.
Chalk Point Kitchen also received a rare 10 out of 10 review from Manhattan Digest, a 4.1 rating from Zagat and an impressive 3 Stars from Timeout New York for its locally sourced farm to table cuisine. While Levine was also recognized for his dedication to gluten free, organic, and sustainable practices while supporting local farmers and purveyors.
Chalk Point Kitchen was also selected as the Official Backstage Caterer of Mercedes Benz New York Fashion Week, Official 'Farm to Table' Partner of the New York Food & Wine Festival, while also collaborating with brands and publications such as CFDA, Dior, Harper's Bazaar, L'Oréal, Maybelline, GQ, and Yoga Journal.
Prior to Chalk Point Kitchen, Levine had played a major role in transforming New York City's Lower East Side area into one of the most sought-after areas in Manhattan. This partly due to Levine's ventures in hospitality, charity work (with local organizations such as the Bowery Mission, Lower East Side Girls Club, and Grand Street Settlement) and dedication to the Lower East Side Business Improvement District as one of its Board Members.
Levine builds business based on his passion for nutrition and branding – with the ultimate goal of creating authentic, creative experiences with a focus on health and wellness. Levine's sharp creative direction and flair for crafting brands that resonate combine with a business strategy that balances structure with creativity and culture.
Respected culinary website, Culintro noted Levine's "innovative promotional techniques," while further stating "Levine's restaurants are high-profile and highly creative in both concept and execution," along with leading technology website Mashable stating, "The success of [Levine's restaurants] videos can be a lesson to other small businesses."
With the success of Levine's branding and marketing of his restaurants, Levine has been featured on hospitality branding and technology within the websites of American Express, Bank of America, and OpenTable. As well as discussing how restaurants can support local communities with Restaurant Insider, and was at the forefront of the Gender Neutral Bathrooms movement, as discussed with MIC. While also being featured at Star Chef's International Chef's Congress, Food Loves Tech inaugural convention and as a keynote speaker at The Big 3 Conference, a digital PR conference for forward-thinking communicators. At the Big 3 Conference Levine spoke alongside representatives from Whole Foods Market, Inc., U-Haul, Texas Instruments and Zumba on the importance of branding and technology. While Levine has also been recognized for his creativity and leadership in the New York Times, Washington Post, Wall Street Journal, Vanity Fair, and Vogue to name a few.
Throughout his career Levine has taken an analytical approach to the hospitality industry, focusing his attention to detail and business' through community first and foremost. Local sourcing, low carbon footprint, community support, and neighborhood outreach led Levine to the approval of six liquor licenses in New York City. There accomplishments recognized Levine as a keynote speaker at Bisnow's acclaimed real estate summit, NYC's Hospitality Climate.
Levine graduated from Muhlenberg College in 2004 with a Business Degree and dual concentration in Entrepreneurial Studies and Marketing. Levine has continued his education and eagerness to learn ever since.
With a personal emphasize on health, nutrition and wellness, Levine is currently a member of the American Association of Nutritional Consultants, Green America, Green Business Bureau, PETA Business Friends, National Wellness Institute, Wellness Council of America and a Senior Board Member and a Senior Advisor for the charity and community volunteering app DEED.
Community Support
"I have come to know Matt Levine through his work with the Lower East Side Business Improvement District where I am a board member and Vice President. I know first-hand how Matt and his team operate their business and if all the other restaurants and bars in the LES were operated in such fashion the neighborhood would be a better please for everyone. He completly lived up to his promises – mainly that it would be a restaurant, first and foremost."
- Michael Forrest, Board Member & Vice President, L.E.S. Business Improvement District
"As a restaurant owner and CB3 member on the SLA board, I am writing in reference for Mr. Matt Levine. Mr. Levine is a respectable and active member in the community. He has operated since 2008 with 3 liquor licenses in the area and there were no major violations that I am aware of. Mr. Levine follows through on all stipulations put forther on his licenses and is a proven operator."
- Wilson Tang, Community Board 3 Board Member
"I have known Matt [Levine] on a personal level for quite some time now and have taken great pleasure in observing his various successful ventures in the LES in recent years. He has consistently served as an ambassador and pioneer for a newer, slightly more posh, but approachable version of the LES – he will continue his run of success, while remaining true to the elcetic heritage of the neighborhood."
– Tito Hill, 19 Stanton St, resident living above Levine's establishment
"In the approximately 9 months since opening the restaurant, Matt Levine has been consitently responsible with regard to noise and crowd control, both of which had been big issues with the prior space. He & his organization have, thus far, delivered on promises to be responsible and to be available and responsible to the residents of the building. I believe my experience with Matt [Levine] as an operator is one that serves as an example that he operates with integrity."
- Neils Heilmann, 133 Essex St. Condo Owner above Levine's establishment
"Matt [Levine] is one of the most inspiring business people I know. He is hard working, efficient, and ambitious, but his high moral standard continues to surprise me to this day. He is someone who really cares about people, and who really cares about more than just his interests. I have seem the lengths he has gone to make sure his [venue] was an asset to the community, and to the extra care he showed all of the residents who lived nearby. I wish more business owners in my neighborhood would aspire to reach the bar Matt sets."
- Gabriel Saport, Lower East Side Resident
"Matt Levine took exceptional care of the property, and continues to do so. This, I assume is no easy task, being in the bar and nightlife business. If any issues arise, himself and his staff are very reasonable and very easy to work with. Matt Levine and his staff also work very close with respect the neighbors both in building, as well as neighboring buildings in accommodating any requests they may have. They have kept the property and its surrounding area clean and tidy. Believe me, I know that good tenants are hard to find. You could not do much better than Matt Levine in your propery."
- Former Landlord, The Eldridge (247 Eldridge St.), 247 LMS, Inc.
"Matt [Levine] was kind enough to talk with all the residents of the building to see if there were any concerns regarding the events held at the lounge. He provided his business card and said we should call him directly should we have any concerns. I have been fortunate enough not to have had any. The team Matt employs shows the same graciousness as he does. The people at the front of the lounge always greet me as I enter or exit the building. Only someone with great character would surround himself with great people as Matt has. The thoughtfulness and respect I have received from Matt and his team throughout my first year at this residence has reaffirmed my decision to live on a popular street in the Lower East Side. I fully recommend and back Matt Levine on any business ventures and endeavors he plans to undertake in the future."
- Wendy Rodriguez, former resident living above Levine's establishment
"Already an established restaurantuer, Matt [Levine] is an active participant in community board meetingsand local precinct gatherings to keep in touch with the community and their concerns. He takes an active role in trying to preserve the quality of life of the Lower East Side."
- Stephen Maly, Lower East Side Business Owner
"Matt [Levine] is very respectful and mindful of the neighbors of [the] Street and has maintained his operation with these circumstances in mind since opening. He always has proper security, staffing and personnel to work the club, and manages patron needs and requests quickly and efficiently, ensure there are no loiterers on our street. His security door and team work in tandem with the neighbors to ensure safey every night they are open. I give him my utmost recommendation to pursue opening other ventures."
- Taylor Choi, resident living above Levine's establishment
"[Levine] has been an extremely good neighbor for the past few years. The staff is consistently diligent in regards to containing any potential noise issues, aways keeps the sidewalk clean, is friendly, and involved in keeping our black a safe and residential one. We have never had any issues with them nor the clientele they attract."
- Michael Marinoff, resident living above Levine's establishment